Erectile Dysfunction (ED)
It is the inability to achieve and maintain an erection while being interested in sexual activity. The penis in this condition remains loose even after the stimulation and cannot penetrate the female partner's vagina. So, due to erectile dysfunction, the erection is not firm enough for sexual intercourse.
The usual erection trouble is not necessarily to become erectile dysfunction. However, it can result in stress, low self-confidence, and relationship issues if it is an ongoing issue. Reduced sexual desire and inability to get an erection or maintain an erection are the primary symptoms to identify erectile dysfunction.
People suffering from psychological conditions like stress, depression or anxiety are at more significant risks. Also, people with poor medical conditions such as heart disease, diabetes or even obesity have higher risks than others.
Ayurveda
The oldest healthcare system and a form of complementary and alternative medicine (CAM), proves to be an effective medicinal treatment for erectile dysfunction. According to researchers, various Ayurveda practices, plants, and herbs are significant to treat erectile dysfunction.
Ashwagandha, Cinnamomum cassia, and other plants help improve erection hardness ranging from severe to optimal and are helpful in treating Premature Ejaculation.
Other Ayurveda practices such as Yoga Practice and Vajikarana enhance sexual function, increase reproductive hormones and lower anxiety, eventually helping to cure ED. Herbs or Ayurvedic plants such as Buetea frondosa, Mucuna pruriens and Chlorophytum borivilianum consist of Rho-kinase 2 that helps in forming an erection.
If erection trouble persists or blatantly shows the symptoms of erectile dysfunction, you should consult a ayurvedic doctor for sure. Consult with Dr Rakesh Aggarwal, the Sexologist in Arogyadham Health Clinic, for the natural and effective treatment for erectile dysfunction. Book your appointment now.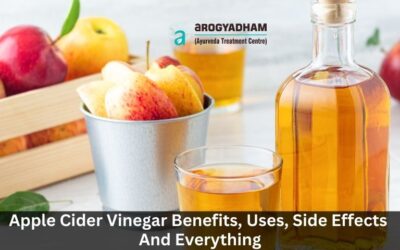 Everyone knows what an apple is, but have you heard about apple cider vinegar or seb ka sirka? If not, you may have many doubts in your mind. Apple cider vinegar, abbreviated as ACV, has gained worldwide popularity in Ayurveda as an effective home remedy for weight...
read more