Premature Ejaculation is the release of semen from the body of a man during sexual intercourse. Premature Ejaculation (PE) is the condition where Ejaculation happens sooner than his partner would like or expect while having sex. It is also called premature climax, rapid Ejaculation or early Ejaculation. here we will discuss about ayurvedic treatment for Premature Ejaculation.
In this condition, Ejaculation happens before satisfying his partner during intercourse. Early discharge complaints are pretty common but surely curable with proper treatment.
There is no exact cause of premature Ejaculation known yet. However, various factors are there to trigger it. Performance anxiety is one of the psychological factors leading to premature Ejaculation. This anxiety can be about various things such as new relationships, fear of being caught masturbating or sexual intercourse and many more. Then, there are physiological factors, neurological factors, underlying medical conditions, and participating in Premature Ejaculation.
Primarily, mental health issues such as stress, lack of confidence, guilt, relationship issues, depression and history of sexual depression can be significant causes of Premature Ejaculation.
Ayurveda states that Vata and Pitta doshas are the primary reasons for Premature Ejaculation. The anxiety during sexual intercourse makes these doshas more intense. Vata leads to penile hypersensitivity due to an increase in sensitivity to touch, whereas pitta causes the thinning of semen, both leading to premature Ejaculation. Ayurveda treatments for premature Ejaculation help in balancing the Vata and Pitt through medication and other practices.
you can consult Dr Rakesh Aggarwal, the sexologist, for effective premature ejaculation treatment nearby Delhi. His Ayurveda center Arogyadham has a rich collection of around 900 specimens of medicinal plants and rare herbs. The center is located at Muzaffarnagar, Dehradun and Rishikesh. Any patient should consult Ayurvedic doctors who are specialists in treating PE.
For more enriching and hassle-free experience, fix a prior appointment with the doctor;
call on +91-8449333303 or

Email Us at info@arogyadhamhealth.com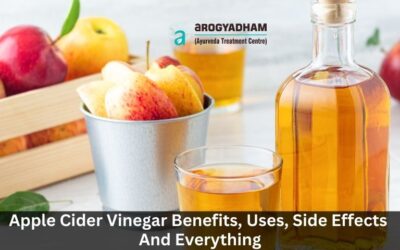 Everyone knows what an apple is, but have you heard about apple cider vinegar or seb ka sirka? If not, you may have many doubts in your mind. Apple cider vinegar, abbreviated as ACV, has gained worldwide popularity in Ayurveda as an effective home remedy for weight...
read more