As it is known that there are various Ayurvedic centers in Rishikesh and when there are many options, one can get really confused with how to go with the genuine center that offers Ayurvedic treatment and therapies? To solve this confusion, here we go with some points that we offer and based on those points or quality that we offer, you can easily compare with other Ayurveda centers in Rishikesh and decide whether you want to go with us or the other one.
We were invited to meet the Indian Prime Minister, Narender Modi.
The Ayurvedic Doctor or Ayurveda Experts: – Vaidyaratnam Dr Rakesh Agarwal is a third-generation Ayurveda Specialist, Research Scholar, and Philanthropist. He is certified in Ayurvedic medications and well-recognized by many countries and governments across the globe in Ayurveda Treatments for his contributions to humanity. He has In-depth knowledge of Ayurveda medicine and an excellent understanding of other alternative medicines like Chinese medicine.
For over 120 years and four generations, the Arogyadham Family has provided Ayurvedic treatments and services to communities worldwide. Before his father & his grandfather were engaged in Ayurvedic practices. Since 1982, Vaidyaratnam Dr Rakesh Agarwal has carried on those traditions by supporting patients in their health, personal and spiritual growth, and teaching patients how to take more responsibility for their health and their own life.
Apart from this, here are some points which make us stand apart; here you go:
Arogyadham Clinic has a lineage of more than 100 years in healthcare, started by the Late Dr G. R. Agarwal.
The Vast experience of conducting Yoga and Ayurveda Workshops for the President of India, Royal Families of Europe, the United Nations, and various Top Leading Companies.
Herbal Museum of 900 Herbs useful in Chronic Diseases and Sexual Disorders.
Our doctors were rewarded by Pratibha Patil, the Ex-President of India, for our contribution and achievements in the domain of Ayurveda.
Our Doctors have conducted many Ayurvedic workshops worldwide and got appreciated it from the Indian presidential house to the White House in the USA.  Many workshops took place in any part of the world. See our achievement section here.
The Arogyadham family maintains traditional wholesome values ​​often lost in today's society. They adhere to the highest professional standards, work with integrity, believe in quality over quantity, and practice with patience and love. The Arogyadham family is indebted to Late Vaidyaraj Ayurved Shiromani Shri V.C. Agarwal, father of Dr Rakesh Agarwal, who has provided them with divine grace and blessings.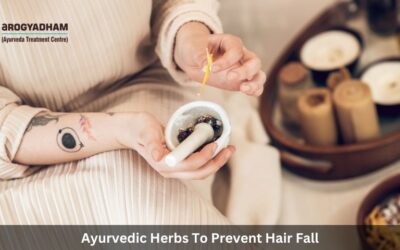 Want to keep those locks luscious and full? Fret not because Ayurvedic Herbs have some incredible remedies to help you regain the strong and vibrant hair you always wanted. Hair loss is a normal and inevitable part of aging, with about 50 to 100 individual hairs per...
read more