Dandruff is a common scalp issue that often appears in the winter. The scalp starts to flake off in reaction to the cold and dry weather. You may have prolonged irritation and inflammation when the issue remains overlooked like other little problems.
Purchasing an anti-dandruff shampoo is the typical initial course of therapy, but occasionally, this is ineffective, especially if your scalp is sensitive. Your hair care product's chemicals may be rather harsh, causing dandruff-causing dryness and irritation. So, the best course of action is to seek ayurvedic treatment for dandruff. Ayurvedic ways to cure dandruff have been demonstrated to be successful since the age-old system recommends conventional approaches to get rid of dandruff and stop it from returning. So, if you are also looking for tips on how to get rid of dandruff, you must read the full blog.
How To Get Rid Of Dandruff
To get rid of dandruff and balance the body's "pitta," "Vata," and "Kapha" doshas, Ayurveda provides a variety of natural remedies that may be applied topically and consumed orally. By nourishing and purifying your scalp, these ayurvedic dandruff remedies might assist with itching and dryness.
Here are some of the top tips on how to get rid of dandruff:
1. Neem Oil
The Neem tree is often referred to as "Sarva Roga Nivarini" in medieval Ayurveda scriptures, which refers to "Universal Healer" or "Curer of All Ailments." This tree's oil, neem, is exceptionally powerful and has antiviral, antimicrobial, antifungal, and hygienic consequences. 
Candida and Malassezia are two distinct kinds of fungus, which are the primary triggers of flaking. Neem oil has medicinal properties for a number of fungi owing to its antimicrobial characteristics. Neem oil is additionally employed for relieving dandruff-related itching, discomfort, and redness.  
Neem oil must be utilized on a daily schedule by individuals who are susceptible to dandruff. Furthermore, it aids in regulating the pH level of the head, getting rid of dandruff entirely.
2. Ginger
Dandruff and other fungal diseases can be treated with ginger, which has potential antibacterial properties. Additionally, it may include magnesium, potassium, phosphorus, and vitamins that promote hair development. Ginger has long been utilized in hair oils and leps due to its therapeutic Ayurvedic ways to cure dandruff.
Use ginger powder mixed with calming substances as a shampoo for your scalp. Ginger oil may also be made, as well as ginger juice for hair washing.
3. Lemon
One of the oldest and most easily accessible fruits and vegetables, lemon, may effectively eliminate the appearance of flaking. Since it is astringent, lemon juice does wonders for the scalp. As a consequence, it destroys the fungal infection that triggers dandruff. Furthermore, it benefits in minimizing hair oil generation.
Perform this minimum of twice a week prior to rinsing your locks in order to avoid experiencing consequences following the first several shampoos. Therapeutic massage a couple of spoonfuls of freshly squeezed lemon juice into the top of your head and allow it to stay for a minute. Then, combine a teaspoon of citrus juice with another cup of warm water and cleanse your locks. This is the oldest and most used Ayurvedic treatment for dandruff control.
4. Bhringraj Oil
Bhringraj oil is the best ayurvedic treatment for dandruff. It is made from the leaves of the Bhringraj tree and is combined with a few plants that are good for hair, including amla, indigo, sesame, and balloon vines. This Ayurvedic oil is a powerful hair treatment that deters premature graying, dandruff, and scalp irritation.
The oil aids in cooling and calming the scalp thanks to its comforting earthy smell. It also relieves the itching and greasiness that dandruff causes.
Gently massage Brigandi oil into hair, making sure to cover the entire scalp, to use it to treat dandruff. Once or twice a week is okay. To further maximize the oil's advantages, warm it.
5. Methi
Methi is an ingredient in food that is abundant in zinc, protein, vitamins A, B, and C, antimicrobial agents and possesses antimicrobial, anti-inflammatory, and antiviral qualities. Methi ointment preserves the hair follicles clean, eliminates flakes, promotes oil equilibrium, and hydrates the hair shaft. 
To get a cure for dandruff, soak methi seeds during the night, crush them to create a smooth consistency, and then knead this mask onto your head. Furthermore, methi-infused hair oil or cleansers may be employed as one of the best ayurvedic ways to cure dandruff.
6. Chamomile
The mineral potassium, magnesium oxide, salt, calcium, riboflavin, iron, and zinc are abundant in chamomile seed in encouraging quantities. This full-of-nutrient component additionally benefits from antimicrobial properties and anti-inflammatory attributes. This herb's tranquilizer properties minimize irritation while stopping fungal and bacterial illnesses from migrating to the hair. 
To get the health advantages of this perennial herb, consuming tea made from chamomile is advised. Dandruff Naturally can be gone from the equation, your hair may be soothed, and chamomile oil may assist you in slumbering well.
7. Coconut Oil 
Coconut oil can be beneficial for nourishing the outermost layer of skin while minimizing flakes, especially if brought on by dehydration. Based on study findings, coconut oil specifically may assist in treating eczema while offering comfort from the cutaneous irritation and stinging that are two of its manifestations.  
Furthermore, multiple investigations suggest that coconut oil and its individual components have antibacterial skills. Up to 68% of the indications of dermatitis have been alleviated by using coconut oil as a moisturizer for the hair and scalp for a period of eight weeks.  
So invest the time before the bath exercising personal care by working a couple of teaspoons of coconut oil onto your locks and scalp. Then, relax a minimum of 30 minutes prior to hopping in the bathtub.
8. Neelibringadi Keram
Neelibringadi Keram is a coconut oil-based product with natural ingredients that is one of the best ayurvedic ways to treat dandruff. It is reinforced with Bhringaraj, Karnasphota, and Amla. It prevents early graying and encourages thick, glossy hair. This oil may also be used for Ayurvedic treatment for dandruff and to calm itchy scalp brought on by fungus.
9. Baheda 
Minerals and essential elements for hair development are abundant in baheda, also known as bibhitaki, by eliminating extra oil, preserving the proper balance of oils, and controlling dandruff in an ayurvedic way. This fruit's restorative qualities make it a crucial component of dandruff-fighting ayurvedic hair treatments.
Make a paste of Baheda fruit with curd, honey, or aloe vera gel to use on hair; apply it evenly to the scalp and hair, and then rinse it out after 20 minutes. For optimal results, use this mask two times each week.
10. Reetha Seeds
Reetha seeds are a prevalent component of therapies for hair and offer an important supply of essential minerals that encourage hair development. It is an organic antimicrobial and antiviral compound that assists in eliminating dermatitis and infections on the head. Reetha is the best element for shampoo to treat dandruff because of its deodorizing power. 
Reetha seeds need to be rested overnight before use and then boiled the next day in simple water. Once it is simmered and tender, let it cool, form a dense paste, and employ it as a scalp treatment once or twice per week. Another recommendation for obtaining the rewards of Reetha is to combine Ayurveda hair care items with a Reetha mixture to treat dandruff.
Final Thoughts 
Dandruff and other scalp issues might appear overnight, but you shouldn't be alarmed because you can treat the problem with herbal oils and at-home cures. The most popular treatments for most scalp infections, particularly an itchy scalp, are ayurvedic herbs. It is a versatile natural remedy that promotes strong hair development. Utilizing home remedies for a few days is the initial step of how to get rid of dandruff. See whether the condition gets better by combining several home cures.
You may schedule a free appointment with our Ayurvedic specialists at Arogyadham Health if you want more assistance with your dandruff. You may also consult us for hair-related issues; our Ayurvedic experts in Rishikesh provide the best Ayurvedic treatment for hair problems.
You can book your appointment through:
Phone: +91-8449333303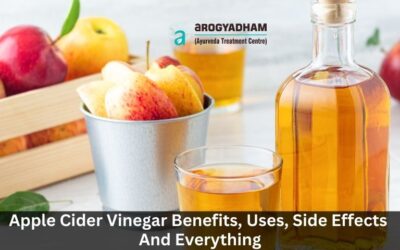 Everyone knows what an apple is, but have you heard about apple cider vinegar or seb ka sirka? If not, you may have many doubts in your mind. Apple cider vinegar, abbreviated as ACV, has gained worldwide popularity in Ayurveda as an effective home remedy for weight...
read more